Appear and Emerge | Feb 2019
Why is everyone playing Apex Legends?
Hey everyone,
Mark here from The Emergence. I thought after a year or so I'd relaunch this email as Appear and Emerge. A Twitch Tier list for people looking to get into streaming, or existing streamers looking to spot new opportunities across Twitch and the streaming world.
Anyone within the gaming or streaming industry may find it interesting too!
PS if you are looking for more in-depth thoughts on the social media, content, streaming, the weather and the gaming industry… subscribe for my ultra secret newsletter!
---
February Twitch Tier List
Like you get in the meta across games such as League of Legends, Overwatch and probably soon Apex Legends, there are always games with attention on them from both viewers and broadcasters, or games that have a die-hard fan-base but not enough streamers are playing them.
I'm going to break these games into the S Tier, the A tier and the B tier with 3 games in each, giving you 9 potential categories to look into and stream. These 9 games will be broken down by their:
Average viewers

Average streamers

Average viewers per channel
This isn't conclusive evidence that you'll be popular if you stream these games, but it gives a wider trend to what could work for you & your community.
Let's get started!
---
Twitch Tier List: S Tier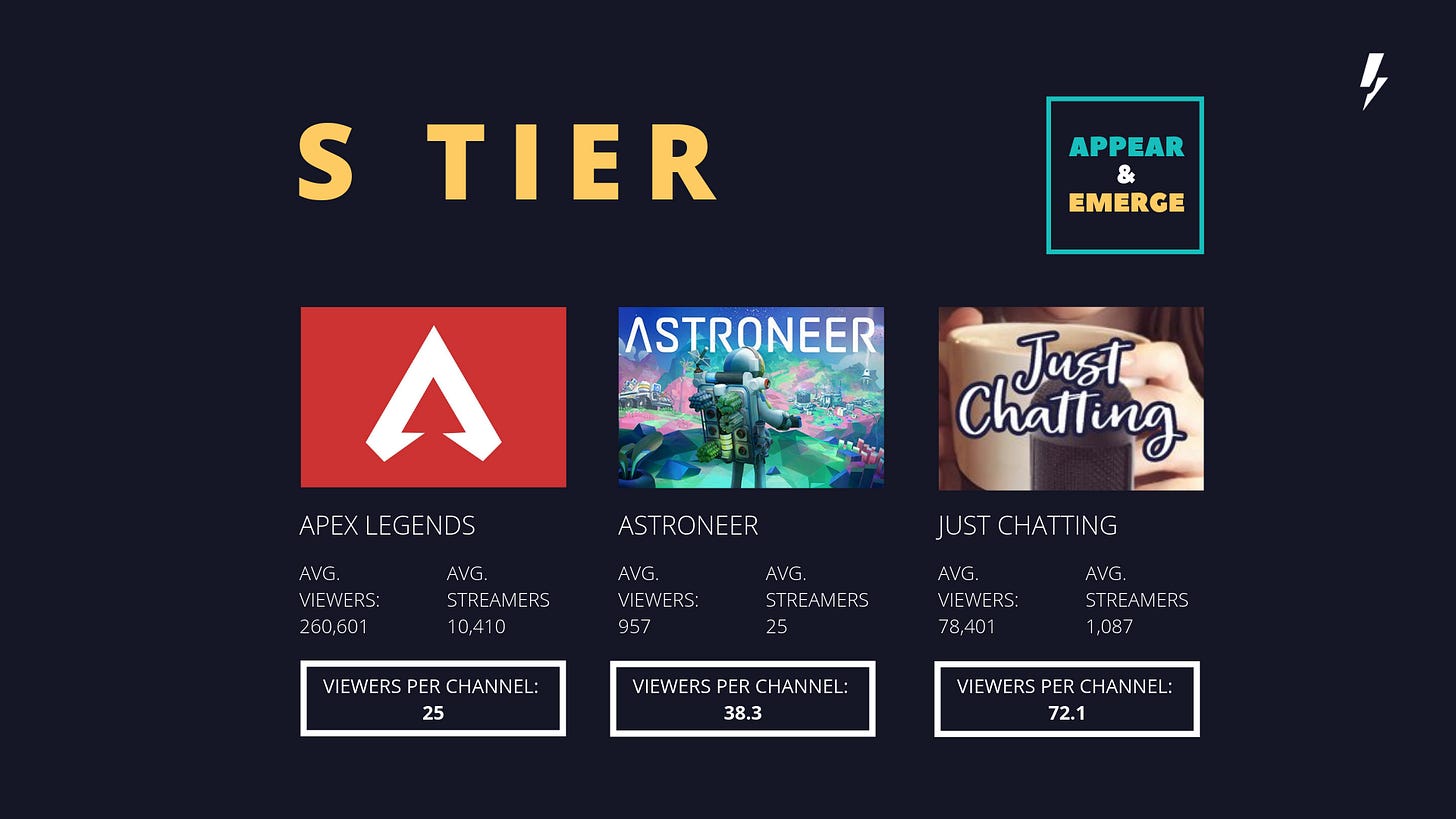 The S Tier contains the new big new game on the block, Apex Legends. A 60-person free-to-play battle royale from the development team behind Titanfall, what isn't to love? It runs super well, the gunplay and combat is fun and it comes with some amazing accessibility and gameplay improvements (namely the ping, audio call-out and revive features). The speed, skill and new-ness is driving all the big streamers to focus on it, and a inevitable esport/competitive scene will do the same.
Astroneer is a building/exploration game with colourful yet simple graphics released in early access in late 2016. It's been building up a fantastic community and with it's final release on February 6 it's seen a big spike in viewership. A perfect game for a streamer created a relaxed streaming environment and engaging a community through Twitch chat… I highly recommend checking it out!
Just Chatting is the third biggest category on Twitch (which isn't shocking if you think about what the biggest type of content on YouTube or Instagram is…). I can't recommend enough spending some time streaming live in the category to engage your existing following more, or build new fans by talking to them about your chosen subject/passion. If you're looking for more help on what to do when it comes to streaming 'IRL' on Just Chatting - check out our guide on Just Chatting streamers right here!
Twitch Tier List: A Tier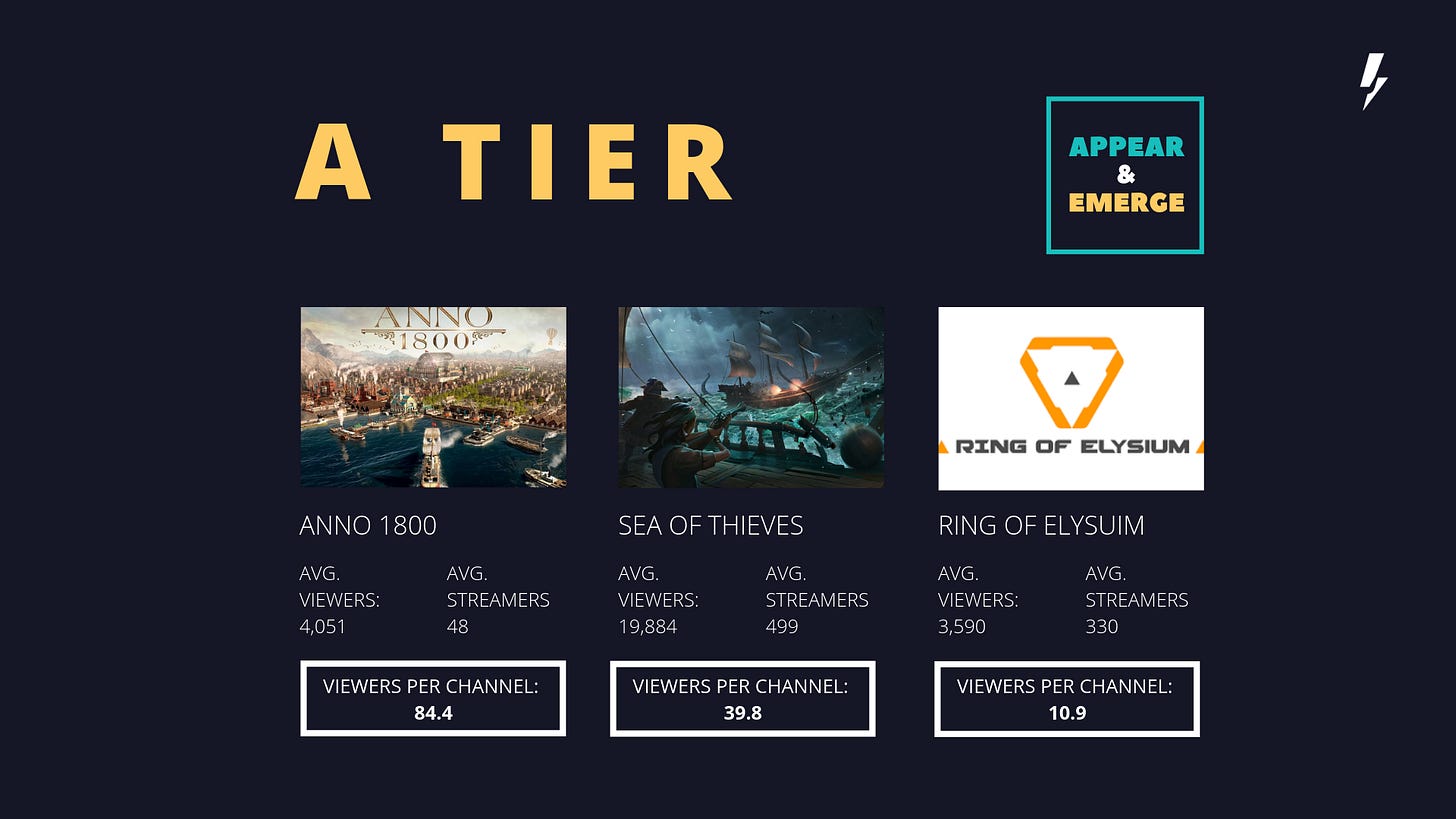 The A Tier sees a brand new game in Anno 1800, a base-building game set in the early Victorian period. Simulation, strategy and base-building games see a very strong community across Twitch and YouTube in terms of viewership, but always a lack of creators… hence why you see such a high average viewer per channel compared to most! (being a brand new game definitely helps too).
With the hype around Apex Legends, a lot of popular streamers have now left Sea of Thieves ready for more content creators to drop in and make a splash (I know…sorry couldn't help the pun). Here's a big opportunity to pick up where the streamers left off!
Like SOT above, Ring Of Elysium is going to see a drop in viewers and streamers over the next month, but it's a well-made game with big development support, there is still potential to pick up a decent sized audience of viewers who don't want to play Apex but still enjoy a Battle Royale game that isn't Fortnite or PUBG.
Twitch Tier List: B Tier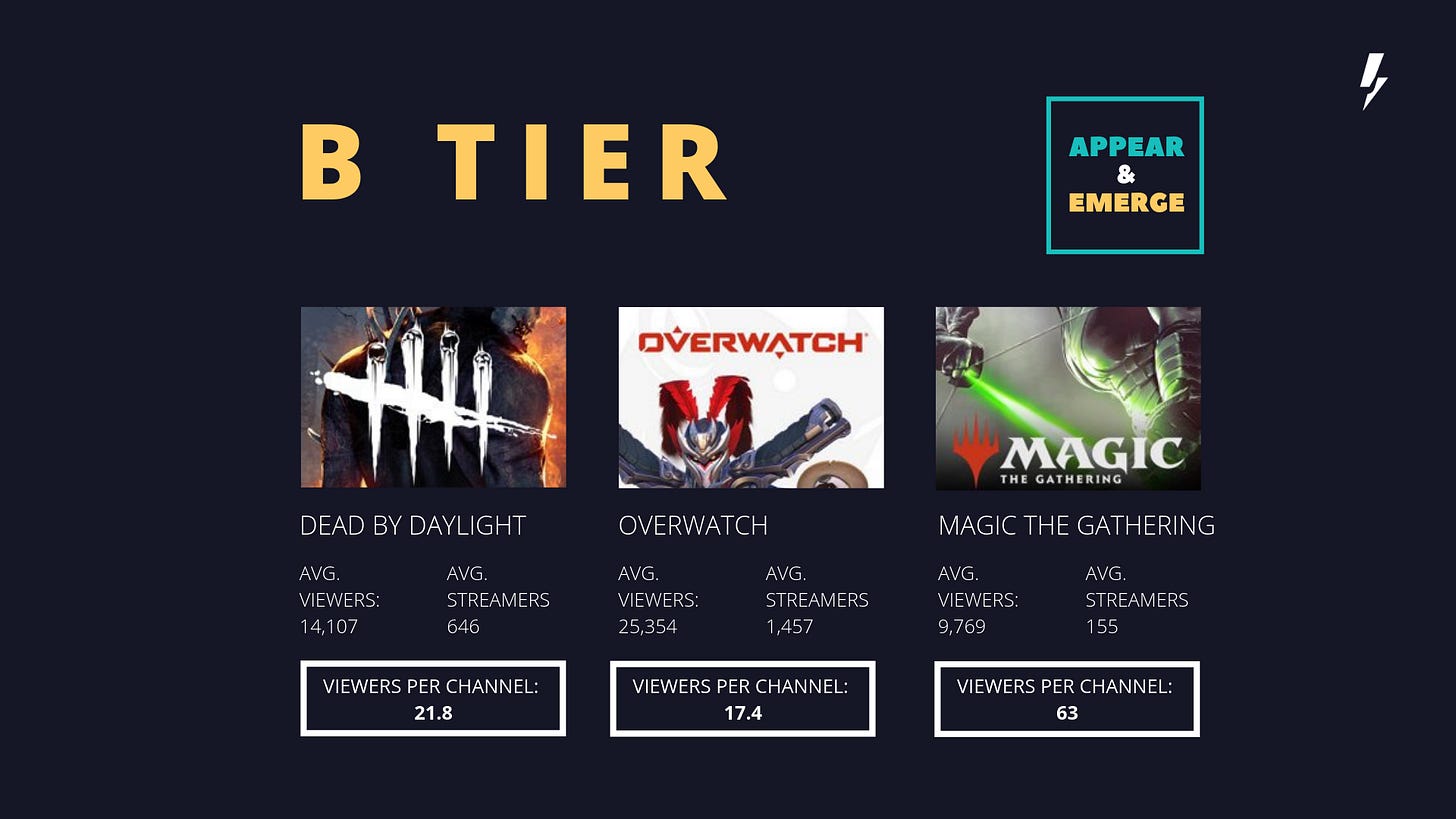 In the B Tier are 3 games that have seen a consistent community develop around them, but a surprising lack of new streamers or new content across Twitch.
Dead By Daylight has become the horror-fans staple game, and it continues to see impressive numbers even as we move into late February and March!
With the new season of Overwatch League just reaching us, why not use the downtime to keep fans engaged while playing and talking about Overwatch? Tie yourself into a specific team or run through game-footage and discuss the tactics, gameplay and best moments.
Magic: The Gathering isn't as big as Hearthstone and this is a huge advantage for it… it has a massive community both offline and online and so far the number of streamers has been impressively low! Huge opportunity for fans of Magic to jump in and create content, or even Hearthstone streamers to try something new…
---
Thank you for reading. If you have any feedback, you spot a typo or just disagree, then feel free to let me know via email, Twitter, smoke signal or carrier pigeon.
You can also support the newsletter & Twitch Guides over on our website by pressing the button below:
---
About Us
The Emergence is a streaming education, guides & tutorial website. We are dedicated to teaching content creators everything they need to know to help them start or grow their streaming journey.
We seek out the emerging heroes of the future.